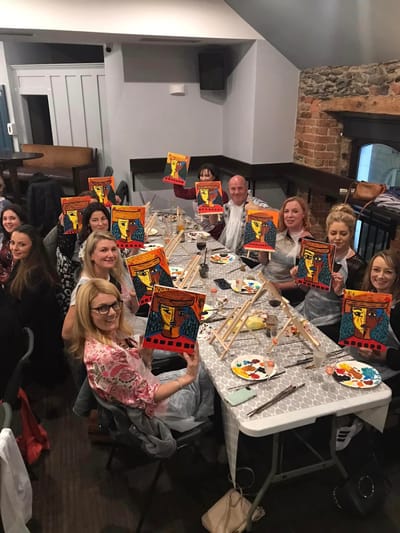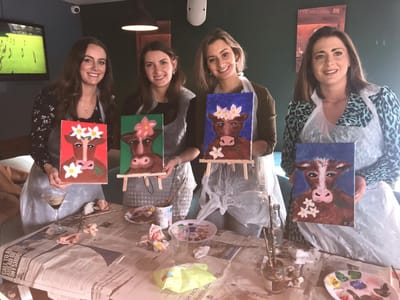 Here at Art Jam Studio we offer a range of creative activities for adults from once off workshops to weekly adult art classes, we will also be starting up a Friday morning "pop-in" Creative Coffee session in February 2023.
Having creative fun is not just for children and here at Art Jam we believe it is important that adults take time to be creative for themselves and sometimes that is easier when someone just makes it easy and hands all the creative materials to you and tells you what to do!
Having inspired adults in Ireland to get creative by offering once off art workshops since 2007, making art fun and mainstream for "non -arty" adults, we know what we are doing and are very good at this!
Join the fun and sign up for one of our creative evenings with Paint & Sip or Sculpt & Sip, we will have an invited artist once in a while to do a special workshop. All once off evening events are BYOB and can be found on out
events
page
Why not sign up for one of our art courses which will give you the confidence to explore and express your creative side.
UPCOMING CLASSES & COURSES FOR ADULTS 2023
Art classes for Adults - -Starting Wednesday 11th January.
Evenings 7:30 to 9:pm
5 week course. €125. All materials supplied.
Creative Journaling for Intention Setting for 2023 - 4 week course/January 2023
Two options to attend - either morning or evening class.
* Friday mornings starting 6th January 10:30 to 11:30am. (6th, 13th, 20th & 27th)
* Tuesday evenings starting 10th January - 7:30 to 8:30pm (10th, 17th, 14th & 31st)
Investment in yourself €100. Materials supplied.
Join me for a powerful 4 week creative journaling journey in January to help you focus on what you want to bring into your life for 2023. Let 2023 be that year that you create for you. Let it be about self-care and really getting to know yourself and finding out what it is you want from this one wild wonderful life.
We think in images and feelings, and so all our hopes, dreams, desires, wishes and intentions all pass through an imagining and feeling process before they can become manifest in our lives.
Creative journaling is a tool for tapping into this and learning to control it.
The course will be a mix of meditation, visioning, intention setting, creativity and focusing and fine tuning desires and step by step planning. Helping you to feel empowered and confident to go after what you want. Let 2023 be the year you take back your power and start making choices for you.
This 4 week course may just change your life!